Though we haven't finally experienced the best of Google+ Authorship (call us a bit late on this innovation), we have a lot of great feedback from friends as to why we bloggers need to set-up our Google+ Authorship. But first, what is Google+ Authorship means to us? Follow us https://plus.google.com/108937206433098488538.
It's Google's baby!
Google is giving us every chance to succeed and land on the first page of Google Search Engine. As long ago as 2010, Google have stated that they take links from social media networks into account when ranking websites. Well, they've gone into overdrive with Google+ (as one would expect) — in an experiment carried out in October 2012, Cyrus Shepard of Moz found that twenty-seven of the top one hundred Google searches for his name was a link to a Google+ page.
What is Google+ Authorship?
Take for an example when we type 'aquaria beach resort' on the Goggle Search Engine, a lot of entries are fetched and are shown on the pages of the search engine site.
Here we see Azrael Coladilla's article on Aquaria Beach that landed on the first page of GSE. And what seems to be the obvious, his profile photo, name, Google+ circles, and time and date the article was published is displayed on the screen. Neat, huh?
What's going on here is simple: the webpage is associated with the author's Google+ profile, which means that Google can pull a head-shot, author name and his or her number of Google+ followers and incorporate it into the search results.
But Google+ authorship is more than just a pretty face — it can have a drastic effect on click through rates (CTR) to your site from Google search results as high as 150%! That's amazing! (READ: How to Implement Verified Google+ Authorship on Your WordPress Website)
How to set up Google+ Authorship?
It's very simple and if you'll just follow the easy steps correctly, you'll have your Google+ Authorship at the soonest time.
The following easy steps are copied from Tom Ewer.
Step 1: Link to Your Google+ Profile Page From Your Website
In order for Google to verify you as the author of your own website, you must create a reciprocal connection between the site and your Google+ profile. The first thing to do is to link to your Google+ profile page from your website.
You do this using the rel="author" meta tag, which should be inserted into your theme's <head> section (which you will find within the header.php file). Use the following code, replacing the URL with your Google+ profile page:
<link rel="author" href="https://plus.google.com/111599818756142119126/posts" />
That's all there is to it. However, if you're not sure how to do this or would prefer not to mess with your theme files, there are alternative means. If you want a standalone plugin to do the job then check out (the rather unimaginatively titled) Google+ Author Information in Search Results. Alternatively, you will find that the big SEO plugins such as All in One SEO Pack and WordPress SEO by Yoast also have a field in which you can insert your Google+ profile URL to achieve the same effect.
Whichever way you choose, the end result must be the same: the inclusion of the rel="author" meta tag in your theme's <head> section with a link to your Google+ profile page.
Step 2: Link to Your Website From Your Google+ Profile Page
Now you need to complete the connection via your Google+ profile page. You're looking for the Links section on your About page (accessed via the About tab within your profile):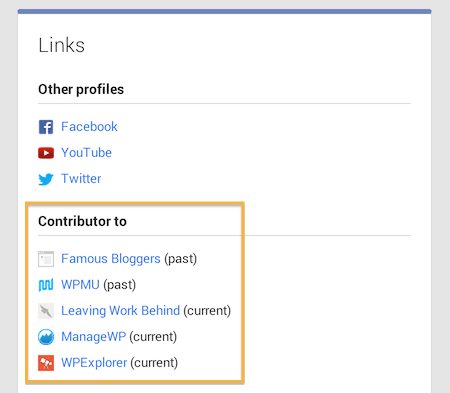 Click the Edit link within the Links section and add your website to the "Contributor to" list.
That's all there is to it! When Google next re-crawls your webpages it will spot the rel="author" tag and be able to verify your authorship by cross-referencing against your Google+ profile.
Step 3: Test
This process can be a little prickly at times so it is best to check that everything is in place before celebrating your impending boosted search referrals. Fortunately this is easily done with Google's rather imposingly named Structured Data Testing Tool.
Just head over there and enter your URL into the box and Google will let you know whether or not there is a verified connection. You should expect to see something like this: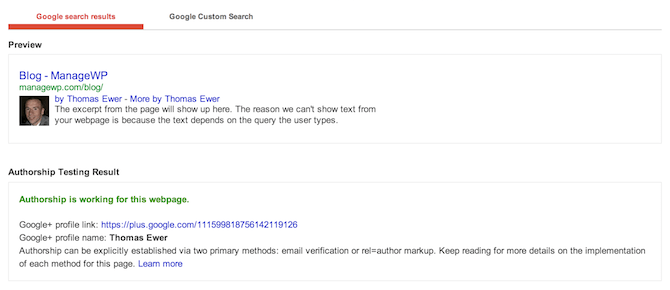 And as simple as that and your Google+ Authorship should be up and running!
Here's our Google+ Authorship confirmation using the Structured Data Testing Tool:
But wait, there are more than rejoicing at once. If you want your authorship information to appear in search results for the content you create, you'll need a Google+ profile with a good, recognizable head-shot as your profile photo. Then, verify authorship of your content by associating it with your profile using either of the methods below. Google doesn't guarantee to show author information in Google Web Search or Google News results.
Option 1: Link your content to your Google+ profile using a verified email address.
Option 2: Set up authorship by linking your content to you Google+ profile.
That's it! If you have questions, comments or suggestions, feel free to drop us a note on our comment box below. We sure need more insights on Google+ Authorship especially from those who are already on top of the Google Search Engine.
Cheers! Please do follow us https://plus.google.com/108937206433098488538.
Thanks to our mentors Azrael, Rafa, and the rest of PBNet group!
Viewed 22936 times by 3628 viewers