A Vietnamese search aircraft located fragments Sunday afternoon floating in waters off southern Vietnam that are suspected of coming from a Malaysia Airlines jetliner that went missing a day earlier. See related article Missing Malaysia Airlines jet may have turned back before disappearing.
Wall Street Journal reporter Vu Trong Khanh has tweeted this picture (below) a new 'suspicious object' spotted 80 km southwest of Vietnam.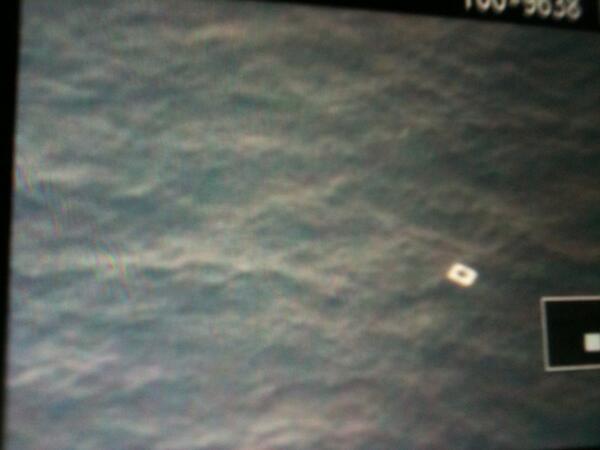 It is not clear if this is the 'suspected fragment' the WSJ says has been found, but it would seem so.
But Malaysia Airlines official statement said that "At this point, no further developments regarding MH370 has been confirmed. We are waiting for new updates from DCA on the SAR efforts."
A U.S. reconnaissance plane "thought it saw something like debris but it was a false alarm," said the official who spoke on condition of anonymity.
UPDATE!
Hopes for a breakthrough were dashed when Malaysian authorities said oil found on the ocean surface had been tested and found not to have come from the jetliner. Various pieces of flotsam picked up in the vicinity of the plane's last known location were also found to be unconnected.
Dozens of ships and aircraft from seven countries scoured the seas for a Malaysia Airlines jetliner that went missing on Saturday, but the search has failed to locate the aircraft.
"This unprecedented missing aircraft mystery — as you can put it — it is mystifying," Azharuddin Abdul Rahman, director general of Malaysia's Department of Civil Aviation, said at a news conference in Kuala Lumpur.

"To confirm what happened that day on this ill-fated aircraft, we need hard evidence," he said. "We need concrete evidence. We need parts of the aircraft for us to analyze, for us to do forensic studies." He added, "We are every hour, every minute, every second, looking at every inch of the sea."
Read updates on Malaysia Airlines MH370 here.
Source: Online/International news reports.
Viewed 16987 times by 3299 viewers